When preparing important documents, every minute counts, so each of us are faced with the need to print an urgent photo on documents, such as passport or visa.
We are doing this! Within 7-10 minutes your photos will be ready.
We are in the center of Minsk:
on Independence square (metro station Ploshchad Lenina)
7, B. Khmelnitskogo street, behind the cinema "October" (metro station Academy of Sciences)
---
Printing ID photos:
Urgent photo on documents

– will be ready within 7-10 minutes. Time are subject to a possible turn in the pavilion.

Not urgent photo on documents (in order) – will be ready for tomorrow. This photo is cheaper and will be ready the next day after ordering;

A copy of the photo on documents – in the presence of pictures (negativity) we can make it a photo on documents. The original must be of good quality. A copy can be performed promptly and to order.
---
How do we do it?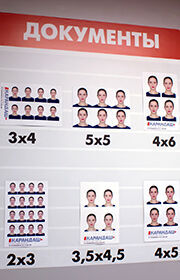 We carry a digital camera some pictures (up to 3 PCs for free), from which you can choose any option.
Then photo copied to the computer are color correction and cosmetic retouching photos. Beauty retouching includes correction of the time, small defects of the skin; shape and facial features remain the same.
You are printing a photo the right size according to the customer requirement.
Our designers can change the clothes in the photo to the official costume. Please note: the pictures with the design process (change of graphic elements, photo montage, drawing, applying filters) may not be accepted by a third party for use in documents or for other purposes.
---
For more information about printing photos on the documents printed in the center of the Pencil
We can produce both color and black-and-white photo for any document.
Photo printing is done on matte or glossy photo paper according to customer requirements.
We can do a photo on documents without printing on paper, saving it on digital media.
A free recording on digital media and send file to e-mail client.
We print pictures on any kinds of documents - passport, visa, student ticket etc.
---
Popular formats of photos:
We can print your photos almost any size. Our operators will advise you on the requirements of ID photos for different embassies or the passport offices.
Before ordering we advise you to check the current photo requirements Embassy (size, background, percent, person, type of paper).
Below are the most popular formats:
passport photos - 4×5 cm, the face 32 to 35 mm
photos for the visa with the specific photo requirements - 3×4; 3,5×4,5; 3,5×4,0; 4×5; 4×6; 3,5×3,5; 5×5, background grey, white, etc.
photos on pass certificates, photos for personal Affairs - 2×3, 4×6, 3×4 corner, 3×4 area, 3,5×4,5; 4×5; 4,5×6; 9×12
photos for the honor roll (according to customer requirements) – 10×15, 13×18, 15×21