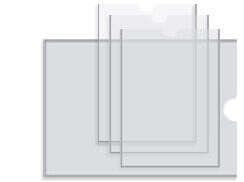 You can easily place all the necessary documentation in the buyer's corner using special pockets. They are made of thin transparent plastic and protect documents from moisture and dirt.
These pockets are made in two formats: A4 or A3. Thanks to the semicircular recess on top of the pocket, you can replace any document easily and quickly.
Each pocket is pasted with a certain color along the contour. Thus, you will be able to highlight the most important documents in your information corner.