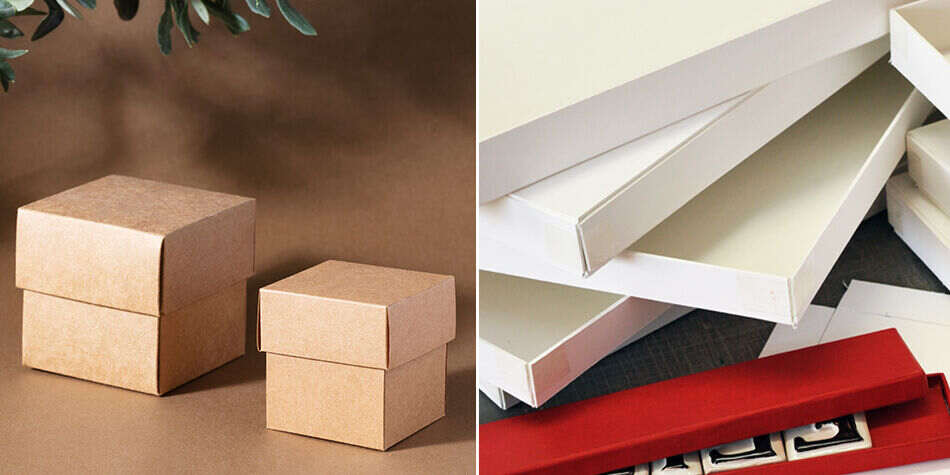 Order cardboard boxes with a lid
A box with a lid will allow you to securely pack the products, deliver it to the consumer in a presentable form and easily remove the goods from the packaging. A
beautiful and functional packaging box plays an important role in the promotion of the product. To order a lid-bottom box, send your layout or choose a ready-made template in our catalog of designs, add
description, logo, text and send the order for printing. If necessary, our professional designers will develop a unique layout of the checkbox. We we carry out orders for the production of boxes for checks with a circulation of 1 to 100 pieces in the shortest possible time - an excellent offer for the packaging of piece products or before launching the box into mass production.
Materials and frames of "lid-bottom" boxes
We manufacture lid-bottom boxes from high-quality three-layer white and kraft corrugated cardboard. Durable cardboard of T22, TB22 brands perfectly holds the shape of the box. You can order from us boxes with a lid of various sizes, from small to, for example, 500x500x50 mm or 400x300x200 mm. The boxes can be made without printing or with the name and photo of your product, logo and other information printed.
Prices, discounts, deadlines
Information about prices, discounts and deadlines for the execution of orders for the manufacture of boxes with a lid can be obtained by phone
+375 17 3 290 290
.
Frequently Asked Questions
Can you make a box with a lid from kraft cardboard?
Yes, we can make both boxes with and without printing - from craft cardboard, from white cardboard.
I need a box with a flap lid, can you make one?
Yes, we produce boxes of various types: with a flap lid, with a separate lid, without a lid, with handles, etc.
What is the production time of the boxes?
The standard production time for boxes is 1 day (up to 250 pieces).