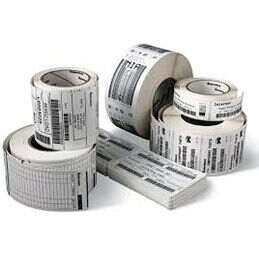 Printing of thermal labels
Printing of self-adhesive labels – quick and cost effective way to place information on the packaging of the goods. Order thermal labels for printing product characteristics (name, date of manufacture, composition, etc.), barcodes and other information. A one-bit black-and-white print like the print on the receipt tape, due to the deep black perfect for labeling short and long - term storage.

Sizes and materials of labels
Printing of labels is done with a special printer on rolls, available in matte and glossy labels in the following sizes: 40х25, 58х30, 58х40, 58х60, 100х70, 100x150 mm. Labels, matte paper - the budget option for printing black and white labels. Used for the labelling of marketable goods in standard storage conditions (+5°C to +40°C). Semi-gloss stickers are more resistant to environmental influences.

Prices on thermal labels
A complete system of prices and discounts provided in our price list. Calculate the price of thermal labels to your layout.
Printing from the layout, prepared in accordance with the Rules of preparing layouts. The production time of 24 hours (for orders up to 200 RUB.).
Perhaps supercrane manufacturer: the opportunity to price check with the operator on the phone +375 17 3 290 290.