Dear lovers of photography!
We, the employees of the printing center "Karandash", since 2006, help You visualize Your memories in the form of photographs.
Despite the development of gadgets, many prefer printed photos. The paper photo is not at risk of loss due to virus or accidental deletion, it has not run out of battery, it is easier to share with friends during the home event. Family photo on the wall in the frame has not been replaced by digital photo frame due to the fact that the paper version most people like more.
During this period we printed Your photos on a variety of printers: cheap, expensive, inkjet, laser, photochemical, sublimation and others.
Time goes on, technology is changing, and we can call ourselves professionals in this area – we have printed millions of your photos. We want to share our experience so You can make an informed choice of the type of photo printing that suits Your needs.
Ways to print photos
1. Photochemical print photos.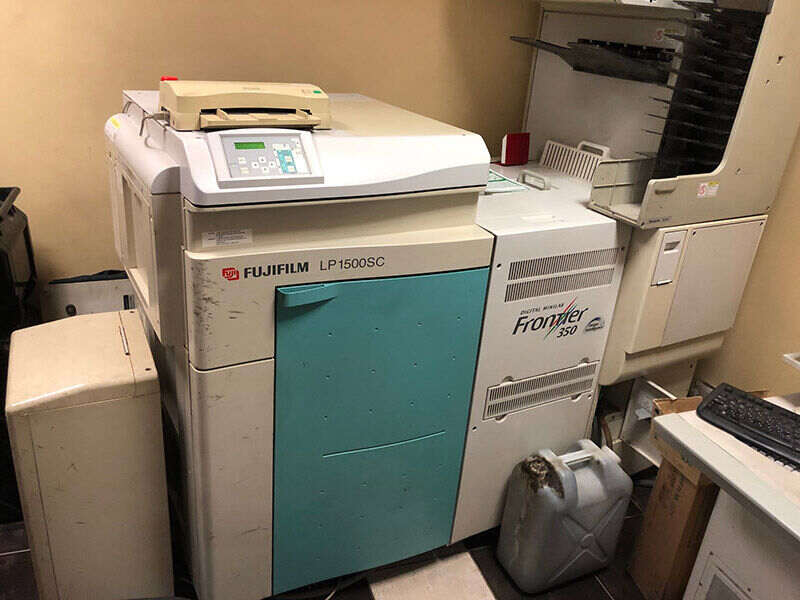 It is available in the old version in the darkroom "in a dark room with red lamp" or on an automated mini darkroom.
Pros:
the usual form of print
waterproof paper
good lightfastness
good quality (with the use of quality of consumables)
Cons:
environmentally unfriendly, harmful to the environment
low resolution printing (400 dpi)
the limited size of the photos (up to 45 cm by 90 cm)
a relatively long and expensive process
color quality is inaccurate
Printing center the Pencil so prints photos from film and slides using the print partners.
2. Inkjet printing photos.
The most important thing that should be understood when inkjet printing – the difference between "water", "pigment", "eco-solvent" and "UV" ink.
Aqueous inks have a slightly larger color gamut than pigment, but the sun quickly burn out. In direct sun, water ink may fade and the week of the recognition, in the photo album on the shelf of such a picture can be stored for decades.
Pigment ink can up to 3 years to maintain the vitality in the sun, in normal conditions up to 100 years, the assurances of manufacturers. This difference in resistance between pure water and pigment-based inks because the paint particles in the pigment ink is shrouded in a thin layer of polymer to protect them from solar ultraviolet radiation.
Eco-solvent inks have emerged as a new environmentally friendly option solvent inks. Such ink due to the presence of acid in its composition slightly dissolve the carrier itself and, thus, are very resistant to light, water and mechanical influences.
UV curable ink applied by the printer on the surface of the material and fixed by exposure to ultraviolet radiation. Due to the type of fastening it is possible to print on almost any materials. Such ink is environmentally friendly, resistant to light, moisture and mechanical influences.
None of the above types of ink are "not friends" with plain paper (a little better it turns out in UV ink). To print photos you need to use specialized materials that differ in price and quality. Quality paper for all types inkjet printing used in printed centres "Pencil" little exposed to moisture, and even water-ink is almost not melt in contact with water.
In fairness, we must mention the latex UV-curable inks, which have some advantages compared to the above, however, resolution and color reproduction are still insufficient for high-quality printing of photos, especially of small size.
Also, a very important point is the assumption that in this article we are talking about the original ink recommended by the manufacturers of a printer. The quality of printing on "compatible" consumables require additional settings of the printer, both software and mechanical, it is very difficult to achieve reliability and proper quality of printed photos.
2.1. Inkjet printing photos on a home printer.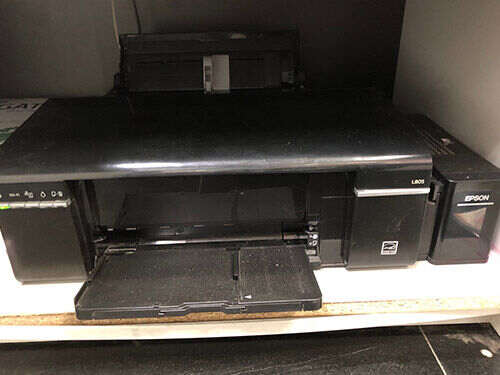 There are a huge number of home photo printers, most of them can with the right approach and use of original consumables to give very high quality results. Such printers often print with water ink, a more expensive model and skin.

Here, at a relatively low price of the printer (50-500 USD), usually very high cost of ink and the short life of the device. Also, in connection with the features of the technology can often become clogged print head. To provide excellent quality real cost of printing in such printers ranges from 0.3 to 1.5 dollar for a print 10x15.
Pros:
Cons:
low resistance to sunlight
low-speed printing
the high cost
In printing centers, "Pencil", these printers are used to print ID photos.
2.2.Inkjet printing photos on a dedicated photo printer with water-based inks.
These printers have been specially designed by several manufacturers that aimed at replacing traditional photochemical mini photo laboratory. On the print quality they are not much different from home, but their high reliability and durability together with cheaper consumables and high speed print makes these devices worthwhile.
Pros:
high-speed printing
great color
reasonable cost
Cons:
low resistance to sunlight
great color
reasonable cost
In printing centers, "Pencil", these printers are used for urgent and standard photo printing.
2.3. Inkjet printing photos on a dedicated photo printer with pigment ink.
For high quality photo printing pigment ink, especially large format photographs (up to 1.1 to 5 meters) required professional pigment printers. The difference between these printers – black, and two or three shades of gray color for high quality printing of black images and correct the color of human skin is one of difficult tasks in the printing industry.
Also, the improved software allows you to accurately reproduce colors with a resolution up to 1440х2880 dpi pigment ink.
Pros:
the best color
high resistance to sunlight and moisture
Cons:
low-speed printing
the high cost
In printing centers, "Pencil", these printers are used for premium photo printing.
2.4. Inkjet photo printing on eco-solvent photo printer ink based on organic acids.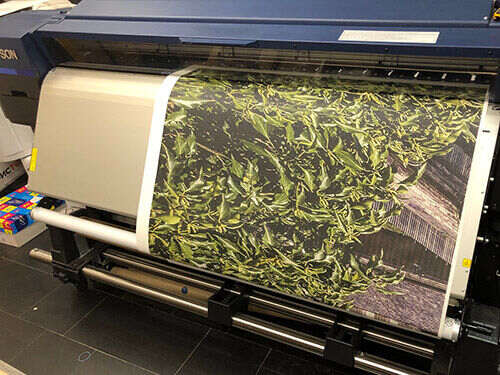 Color gamut of this printer with the original ink is almost identical to a professional pigment printer. Due to larger ink drops the resolution a little lower to 1440х720 dpi, however, and the cost of printing is much lower.
Maximum size of photo is limited to the length of the material roll with a width of 1.6 m.
In addition, a special photo paper to print photos on this printer, with a layer of plastic, which, coupled with the reliability of eco-solvent ink allows us to hope for very long term life of the print. You can also print on self-adhesive film nakatyvaya it for the different types of plastic, completely eliminating paper and completely avoiding shrinkage of the paper depending on the humidity. So print high quality and durable reproductions and portraits.
Pros:
great color
high resistance to light
low cost
Cons:
low-speed printing
small photos may not be enough permissions
In printing centers, "Pencil", these printers are used for standard photo printing large sizes, replacing the outdated photochemical process.
2.5. Inkjet photo printing UV-curable ink.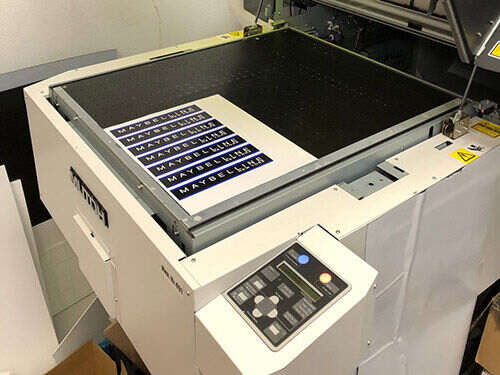 This type of inkjet printing is relatively young. Such printers print relatively slowly and is relatively expensive, so in the meantime the technology is not widely used in photo printing. Such printing voluminous to the touch, it is possible to print white color and clear lacquer.
Pros:
printing on any surface
high resistance to light, moisture and mechanical stress
color intermediate level
Cons:
the high cost
print speed is slow
color intermediate level
In printing centers, "Pencil", these printers are used to print pictures on gift products, plastics, wood, glass, and print premium printed products.
3. Sublimation printing of images on paper.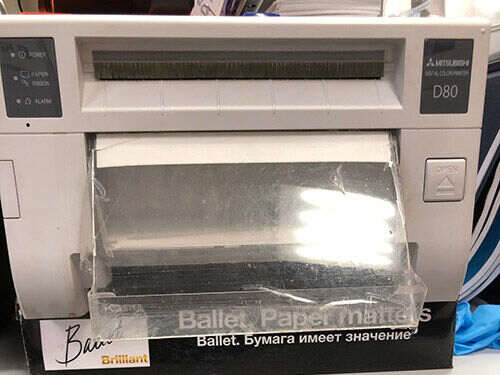 This type of printing is a serial thermal transfer dyes of different colors with films on paper.
After printing on the photo and applied in a thin film, reminiscent of the lamination.
Pros:
high-speed printing
bright colors
reasonable cost
average resistance to light, water and mechanical stress
Cons:
color quality is inaccurate
In printing centers, "Pencil", these printers are used for manufacturing some of the photo magnets.
4. The laser printing photos on a professional printer.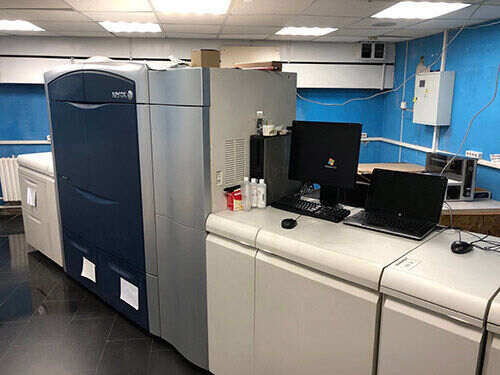 This type of printing originally used in the printing industry, where the requirements for print quality differ slightly from photo. The process is a dry transfer dry inks of four colors onto the paper and subsequent thermal fixing on paper.
However, modern professional laser printers of A3+ (the printer is 10 square metres, weighs half a ton and stands 60-250 thousand dollars. USA) allow to achieve very good results in photo quality. Photos printed on these printers, recall cards, and to an untrained eye the difference is small.
Using high-quality coated offset paper with a weight of 250g/m.
Pros:
bright colors
high resistance to light
high reliability
the lowest cost
Cons:
inaccurate color reproduction in the midtones and skin tones
paper for laser printers exposed to moisture
In printing centers, "Pencil", these printers are used to print photos "Digit" and "Number Lux", offering consistently high print quality from image to image at the lowest price from 4 cents for a photo 10x15.
Other than printers, which are printed pictures of the least significant role is played by software, which is independent of the ordering of photos via the Internet. A properly configured software process leads to accurate color reproduction, accurate dimensions, proper framing and no delays in the processing of photos.
Printed in the center of the Pencil is used the software of own development, and for the "core processing of the images of" meets specially licensed English software from the world leader in this field. To order a photo printed in the center of the Pencil can from your smartphone, and this can be done very quickly and conveniently. Available and direct access to social networks to print photos from Instagram, Facebook, etc.
In conclusion, I would like to Express the hope that this article has helped You better understand the printing options and make the right choice.
To order prints of your photos