Invitations Lilac classics
Design #04340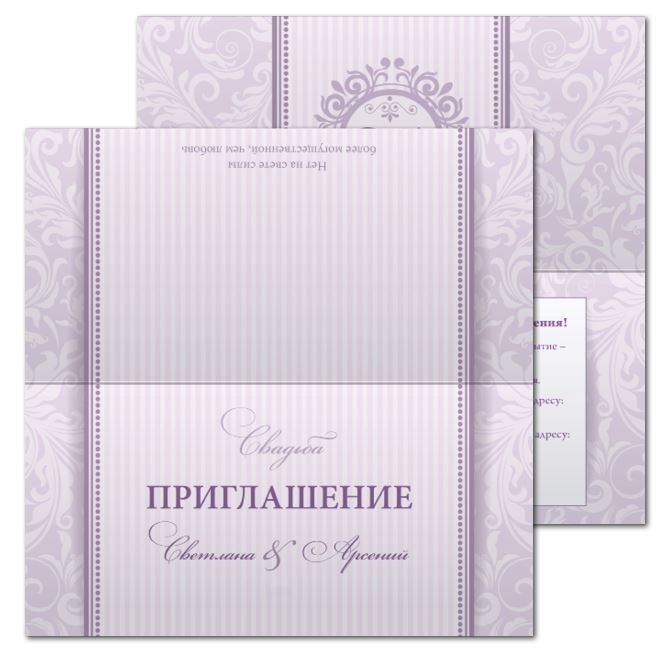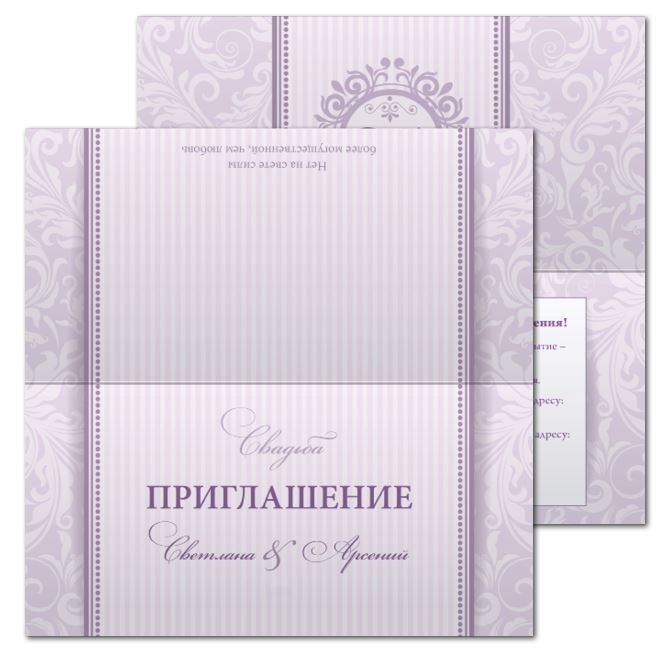 Calculate the cost in the calculator Automatic order without operator call
Urgent printing and operator consultation 3% discount
for online payment
Prices are indicated for printing from a ready-made layout. Delivery in Belarus from 75 rubles for free.
It is easy to change text, photos, pictures in the design. It is convenient to edit and visualize your ideas. You can order from a smartphone, while the full functionality is available from a computer. It is easy to make an order with different data (for example, last name, first name, position) and the same design - see the video instructions
here
. Other materials and sizes, editing and design services are available when ordering in the pavilion.
Addition
Without adding
Card does not add up.
Adding up
Card folds at the top (narrow or wide depending on your layout) side.
Addition to
Card folds on the side (narrow or wide depending on your layout) side.
Material
Premium semi-matte paper
Excellent print quality due to smooth surface, uniform structure and high whiteness ratio.
coated Paper (glossy) premium
Perfectly captures the bright, saturated colors.
Paper, designer Kraft
Stylish design material. Consists of recycled materials, does not contain acids and is entirely subject to subsequent processing. Emphasize ecological and natural character of the product. Print layouts without dense fills.
designer mother of pearl Paper
Designer paper Majestic (majestic) c pearl finish. Print layouts without dense fills.
Designer Texture paper
Designer paper with textured surface. It is used for printing stylish letterheads, inserts for postcards and invitations, certificates and other advertising and information products. For printing layouts without dense fills.
Paper designer velvety
Designer paper Touche Cover (Touch Cover) - a nice touch, gives the printed product a sense of luxury and exclusivity. Recommended simplex printing without dense fills.
Type print
and Laser printing
High print quality is achieved through the use of high-performance professional equipment.
UV printing
Ultraviolet (UV) printing is used to print full-color images, as well as to print white on dark materials.
Print color
This print mode is used primarily for creating full-color images on light materials.
Printing white color
the Image is printed in white. This mode is mainly used for creating contrasting prints on dark /colored materials.
Printing white and color printing
This print mode is used primarily for creating vivid full-color and white images on dark materials. Printing white is used as the substrate, followed by full-color printing.
Lamination
Laminating
Coating a transparent film. Protects from external influences and gives a presentable appearance.
Type of lamination
Glossy
Emphasizes the saturation and brightness of the printed image.
Matt
does Not glare and gives a respectable appearance to the finished product.
Superlative
Special slim (32 µm) coating with a tactile surface. Does not glare.
Round corners
rounded corners
Rounded corners are bent less when using, longer still presentable greeting cards, invitations.