Arrange your printed photographs, collages and certificates are ready to frame standard sizes from 10×15 cm to 60×80 cm
Standard formats are always available. Even if you have a large circulation, we provide the right number!
Printed in the center of the Pencil you can choose a ready-made framework of two types:


Metal frame
The frame is made of thin and very reliable metal profile. They use thin glass, 2 mm, which makes them heavy even at larger sizes.
Color: matte gold, matte silver, and matte black (only 21x30 cm).
Formats metal frames: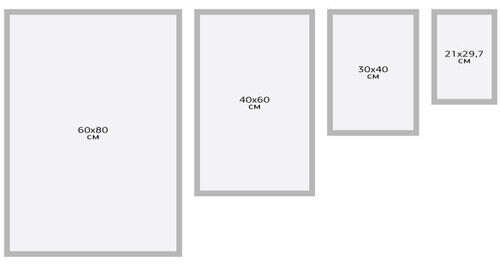 Frame clip
Frame clip, or entirely is the most affordable option of the execution of any of the images on the paper.
Your picture is clamped between the thin glass sheet and a rigid rear wall with special clips (hence the name "frame-clip"). Thus, you get the decorated image, but without a frame. This minimalistic version will fit perfectly in any interior of the apartment or office.
Formats framework clip: